For Fusion:
As the conversation around immigration centers on the border between Mexico and America, a crossing at the Canadian border has become the latest flash point in Trump's war on undocumented immigrants and those on temporary protected status visas.
Over the last two years, thousands of asylum seekers from all over the world have taken planes, buses, and taxi cabs to the small village of Champlain, NY. At Roxham Road, a dead end out of America where they cross on foot into Canada and are arrested and charged with an illegal border crossing in order to escape the rhetoric and policies of President Trump.
An agreement between the United States and Canada called the Safe Third Country Agreement means migrants must cross illegally as asylum claims made at the border would be denied due to the agreement's frameworks that they must make a claim for asylum in the first country they arrive in.
Roxham Road, the dead end out of America and into Canada at sunrise.
A pair of frosted mittens lays just outside the border with Canada where thousands of asylum seekers have illegally crossed north to escape the policies of the Trump administration.
An asylum seeker gathers his belongings before crossing into Canada.
After being warned of their arrest upon crossing into Canada, a Nigerian couple drag their suitcases into the custody of Canadian immigration officials who will process their claim of political asylum.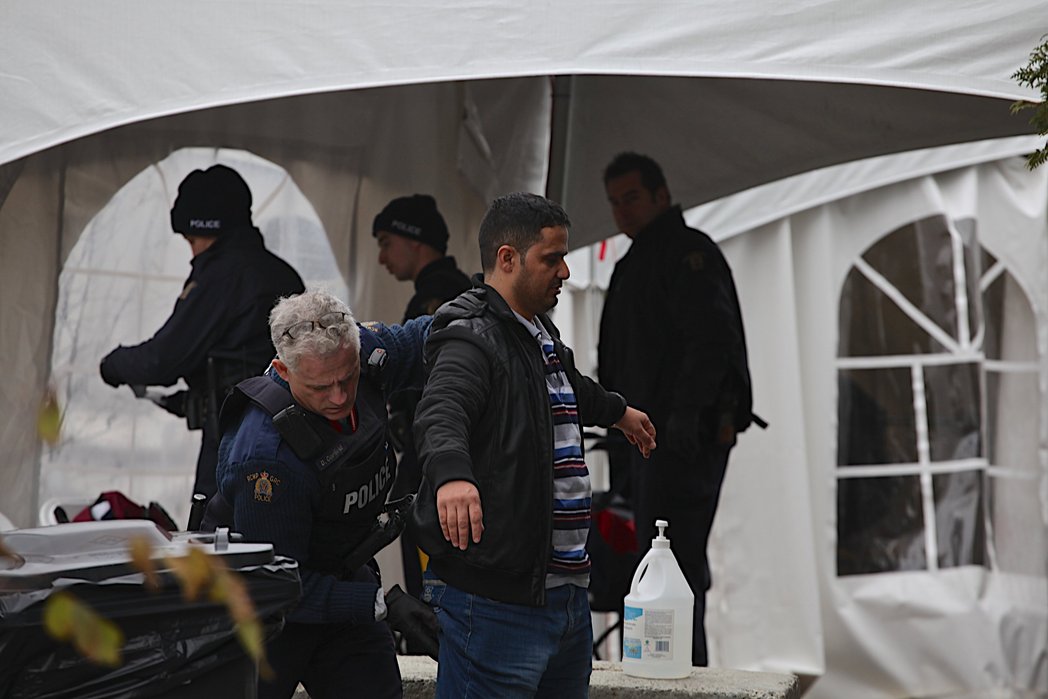 Upon illegally crossing into Canada, a man from Yemen is frisked before being transported to an immigration center where his claim of political asylum will be processed.
A marker indicating the border between America and Canada at the end of Roxham Road.
A taxi driver from Champlain, NY delivers a family from Nigeria to the end of Roxham Road.
Children wait in America as their mother is warned by Canadian immigration officials of their imminent arrest upon crossing the border.